Daniel Cooper
Director
Daniel has well over 2 decades of experience in the Coach industry. Working his way up from a driver to a Transport Manager where he obtained his CPC in professional competence to then advancing into his current role as Director.
Daniel is responsible for many aspects of the business, with the ultimate responsibility being the company's performance and making sure it heads in a positive direction. Primarily as the MD he is responsible for implementing company policies and any changes to it. He is accountable for leading, coaching and mentoring the team and supporting their professional development.
Avanesh Patel
Transport Manager
Av is responsible for managing the performance, direction, and coordination of all transportation matters within the organisation. This includes organising schedules & routes, ensuring that vehicles are safe and meet legal requirements, and making sure that drivers are aware of their duties. Av has been working in the coaching industry since 2005
Dean Holmes
Operations
Dean's main duties is to oversee the scheduling and to make sure the organisation is running as well as it possibly can, with a smooth and efficient service that meets the expectations and the customer and company needs. He oversees the hiring and assignment of employees and planning staff development.
Kannon Akhtar
Administrator
Kannon's main duties is to provide customer care and administrative management. This includes answering the phones and emails. To co-ordinate between departments to resolve any day to day administrative and operational problems. Kannon also works along side the management team in assisting to keep driver files including DBS up to date. He is responsible for scheduling and coordinating meetings, interviews, events and other similar activities. He also deals with the correspondence from out parts suppliers to collect and reconcile invoices and statements, as well as keeping a track on in going and out going monies. Kannon has a BTEC in Travel and Tourism, and a level three diploma in Customer Service and has worked in the customer service/admin industry for 14 years. Kannon is the companies first aider.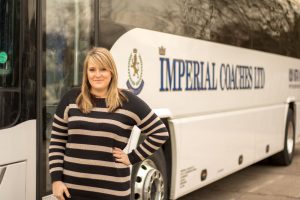 Victoria Farren
Administrator
Victoria works along side the office team to carry out all administrative duties which are needed in the workplace. She complies and checks all drivers tachos and working hours .
Danny Crepaz
Workshop Manager
Danny's Role Within the company is to ensure the day to day running of all our vehicles. Danny is irtec accredited for PSV inspections.
Danny's main job role is to make sure the vehicles are inspected in accordance with the DVSA. Danny works very closely with Imperial's Operations team to ensure that vehicle down time is kept to a minimum.
Ricky Crepaz
Workshop Manager
Ricky is responsible for the job flow in the workshop including job scheduling and labor allocations for day to day operations. He regularly reports progress on each job and quickly communicates delays with the transport manager. He is accountable for the quality of work carried out and performs incoming and outgoing inspections on all parts, assemblies or delegates that work. Ricky is irtec accredited for PSV inspections and has been a valued member of the team for 5 years.
Thomas Powers
Workshop
Thomas started with Imperial Coaches as a school leaver and took on the role of an apprentice since then he has attended Berkshire College and worked alongside our team in the workshop completing his qualification and gaining full-time employment. His duties are keeping equipment available for use by inspecting and testing vehicles; completing preventive maintenance such as, engine tune-ups, oil changes, tire rotation and changes, wheel balancing, replacing filters.