Welcome to Imperial Bus
Imperial Coaches have been successfully running "home 2 school" services for County Councils for over 15 years. In this time we have gained a wealth of knowledge in "home 2 school" services.
Recently Imperial have taken steps to commercialise these services.
This year we have registered routes to Burnham Grammar, Chalfont Community College, Dr Challoner's High School, Beaconsfield High School, Dr Challoner's Boys School and The Beaconsfield School.
Our Standards
Following our success with our operation we are able to offer the following as standard with our services.
Full Tracking of vehicles, giving our Operations Department up to date information on where the vehicles are at any given time. The tracking system also has built in driving style reporting giving the office reports showing how the vehicles are being driven.
DBS checked drivers throughout the whole of the company. Giving you peace of mind that the driver of your school bus has been fully vetted. As well as DBS checks all our drivers are up to date with their DCPC qualifications. All drivers carry photo id badges containing DBS numbers.
CCTV fitted to all home 2 school services. This allows schools and authorities to check CCTV if there are any issues with behaviour or any issues that may happen on route.
ISO standards – Imperial Coaches has gained accreditation of ISO 9001:2015 and ISO 14001:2015 for quality and Environmental standards. Imperial Coaches is focused on reducing its impact on the environment and has policies in place to help with this.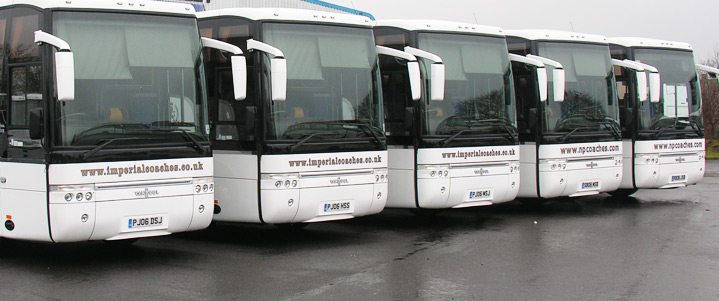 Our Tickets
To book your child a ticket onto any of our services you will need to use the bus route finder below to see which bus route serves your stop.
Tickets can be purchased Termly (Autumn, Spring and Summer terms) or Yearly.
The cost for these will be as follows;
*note all tickets include an administration fee for issuing passes.
** ticket prices are fixed for the academic year and will be reviewed in July 2024 for the 2024 – 2025 academic year.
*** Annual pass is valid for an Academic Year September to July.
All our tickets are sold online using Credit or Debit cards or Direct Debit.
Direct Debit is available for Annual passes Valid September 2023 – July 2024 and there will be 8 monthly payments of £154 starting on 1st August 2023.
Bus passes will be issued to the students on the bus at the beginning of each term, or at start of academic year for Annual Passes.
Lost passes will be charged at £20 per pass. These can be ordered here.